Apero deep 2022
Commercial event / Entertainment/recreation ( Tasting )

Thursday 7 July 2022 between 7 pm and 1 am.
Gassin
Back list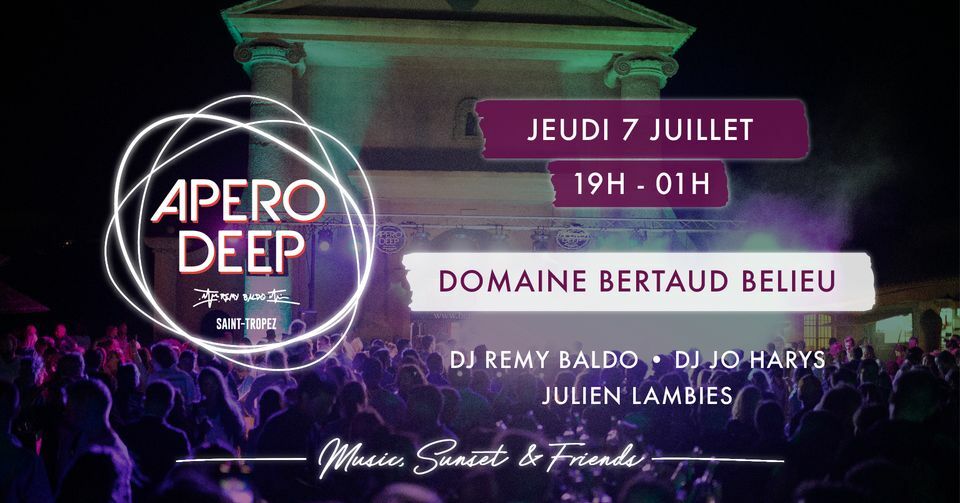 A desire to party in the vineyards ? Apéro Deep invests the vineyard of the Bertaud Bélieu estate. Come dance and taste the local cuvée for a magic sunset from 7:30 pm to 1 am.
A monthly meeting in summer, this event attracts visitors and professionals from the peninsula who can exchange drinks in a majestic setting.
- Dj Rémy Baldo instigator of Apéros Deep will delight you with the most beautiful melodies with Supa Ju & Alain Prauviste.
- Show lights & Sounds system
- Food Trucks
The moment when the sun blends with the horizon.
Feel like chilling? Want to dance?
Music, Sunset & Friends
Open to all.
€10 starter with a glass of rosé.
Infoline aperitif deep: 0603806726
Infoline bertaud bélieu: 04 94 56 16 83
Vignoble Domaine de Bertaud-Belieu
635, RD61
Route de Ramatuelle
Gassin
Opening
Thursday 7 July 2022 between 7 pm and 1 am.
June 2022

July 2022

August 2022

September 2022

October 2022

November 2022

December 2022

January 2023

February 2023

March 2023

April 2023

May 2023